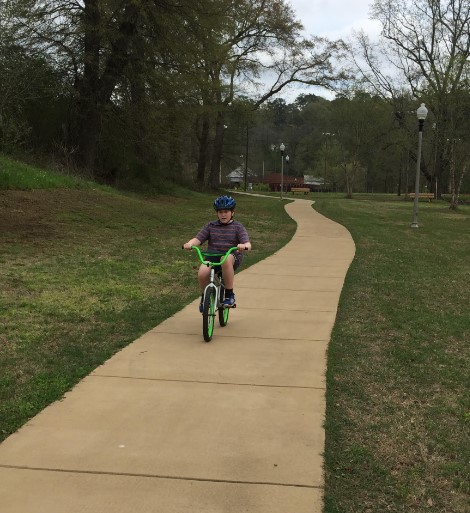 How long can we stay cooped up on quarantine before cracking?
Five days.
LOL.
It's day 5 and we flew the coop!
We stayed up too late watching movies last night, slept too late this morning.  And then made a run for it to the park.  Playgrounds are closed.  But this amazing walking track/trail and greenspace area is open.  It doesn't look like it in the picture because we found a quiet area, but it was actually crawling with people.  It was a beautiful day.  People were keeping their "social distance" but you could tell, everyone just really needed this beautiful day and some fresh air.
After that we did a pickup order at Books-A-Million of The Wingfeather Saga Book 1.  We found out Andrew Peterson is doing a read aloud of book one, and we watched a short film commercial for the book and were hooked!
Then we hurried how so we could wash our hands and we tackled school.
We got through math, reading and Spanish and realized we were done for it for the day. Some days are just like that and grace says its okay.  It's been a tough week.
We watched all our live streams that we've been keeping up on, played Mario Kart, had dinner and then knocked out 4 chapters of The Wingfeather Saga Book 1.