Day 468 of Quarantine…
Just kidding, it's day 4.  Although at times it felt like 468.  We are keeping up normalcy as much as possible (as far as staying home and getting school work finished.)   There are several articles, memes, Facebook posts, etc, circulating on school schedules and routines and ideas floating around.  Shoot, I even wrote one.  But there's also posts circulating that says throw routine out, stay up late, play video games all day and "have fun".  Well, we are having fun.  And tomorrow (hopefully), I'll write a post about why I'm in camp "stick to a routine that includes fun" instead of total at-home anarchy.
But, we did have some fun today because we're going a tad crazy.
ChessKidsNation had a free beginner chess lesson this morning so we tuned in to that and then played a round of chess to practice our new skills.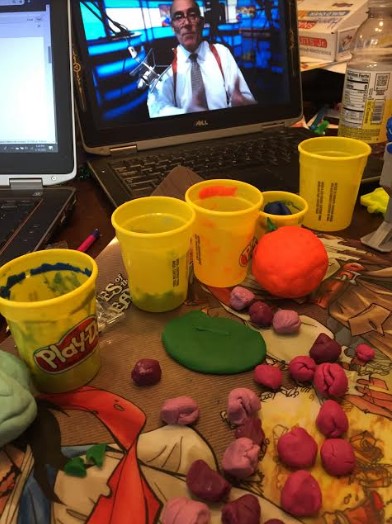 Our incredibly awesome local weatherman, James Spann, did a one hour live stream weather lesson that we both very much enjoyed.  We also broke out play-doh to keep our hands busy while we tuned in.
You'd think we'd have made weather-related play-doh things but we made fruit.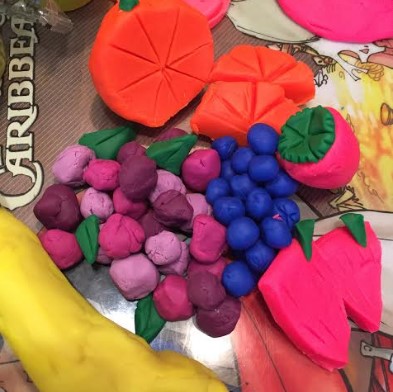 We plodded along with other subjects today but didn't miss out on tuning in to Lunch Doodles with Mo Willems and a visit to the Cincinnati Zoo to see Moe the sloth!
We also enjoyed some highly competitive rounds of Mario Kart on the couch this afternoon.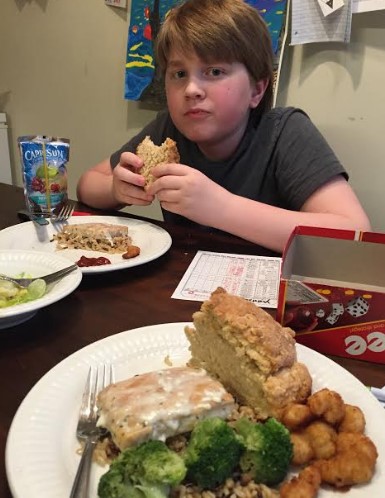 Today we finished the Health and Nutrition chapter of the Apologia Elementary Anatomy and Physiology book. So we decided to try to make the most nutritious meal we could using only what we currently had, because quarantine and all. We came up with salmon over long-grain wild rice, popcorn shrimp, broccoli for me, romaine salad for G. And we finished off our Irish soda bread from Tuesday (but I use unbleached whole grain flour and applesauce instead of egg – so still kinda healthy!) We reviewed the nutrients found in each of our menu items.
And yes, we play Yahtzee over dinner.
That's it for day 4.  Let's see what tomorrow brings!