It's day 3 of quarantine and we're missing our extracurricular activities already.  Monday was supposed to be co-op. Tuesday, we had a field trip we had been looking forward to get cancelled.  And the weather has been nice but the parks are even closed.
So, we're trying to adjust to this new normal.  We listened to some podcasts over breakfast this morning.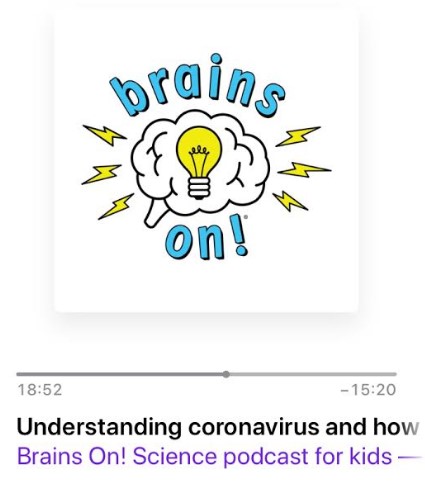 We did more academics today that we have the last two days.  Lots of math – G is almost finished with 6th grade on Khan Academy.  In fact, he will probably be finished this week. And science.  Also, his U.S. Geography class at co-op sent out homework to keep from getting behind during the closure.  So he has a report on Alaska to start on.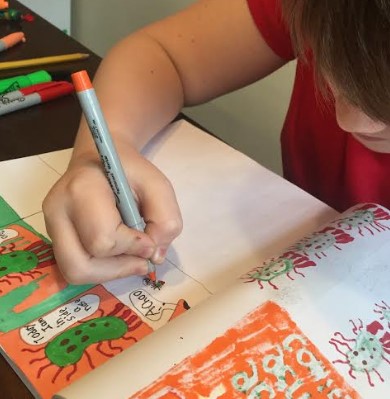 He's been inspired to create a comic book character so he's been working on his comic strip featuring Bob the Germ.  I've let that count as writing this week because it is, in essence, creative writing, and he's working on dialogue and narration.  But I'm glad he's got a report to start working on for co-op class.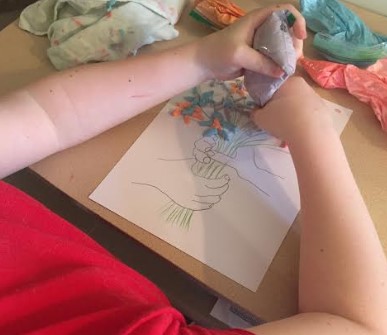 And despite doing more academics today, we still squeezed in some fun.  We did puffy paint Picasso paintings with Make Paducah via their FB page. It was messy but I'm glad we did it. It reminded me of those early days of homeschooling.  And he loved it so much more than I thought he would.  He made puffy paint pictures until he ran out of puffy paint.
And we're still keeping up with Lunch Doodles with Mo!
How was your quarantine day?
If you need a pick-me-up, this video of the Penguins at the St. Louis Zoo getting to get out of their habitat and take a "field trip" around the zoo is really just the best.  And don't forget to "like" on Facebook!